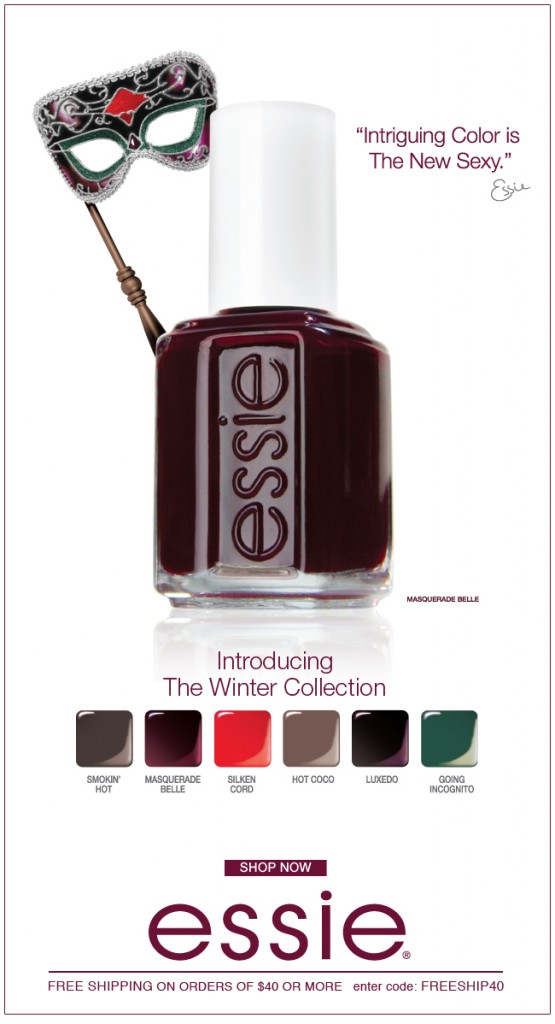 Smokin' Hot - Break the rules with this stone-cold fox gray that burns hotter than any flame.
Masquerade Belle - Fascinating, mysterious and seductive, this black ruby sparks the imagination and inspires intense devotion.

Silken Cord - You've got the world on a string with this stunning risqué red wrapped around your fingers.
Hot Coco - Paint on this tawny sepia and channel the roaring '20s for a look that's timelessly flawless.
Luxedo - Suit up in this deepest plum and boldly go where no man has gone before.
Going Incognito - Your identity may be secret, but your style and panache are impossible to conceal with this deep emerald green.
Which are your favorites? Or which ones are you looking forward to?
Today I will have a few swatches from Essie, including the Winter 2010 Collection's Going Incognito. :)
Essie Going Incognito
a foresty emerald green creme. The swatch is 2 coats and 1 coat of top coat. I love this green! The formula and application was excellent. The color is really nice too! :)
Essie Sew Psyched
According to Essie it is a cashmere-soft sage pewter. It's more like a dusty deeper jade creme with a small shimmer. The swatch is 2 coats and 1 coat of top coat. Awesome color! Formula and application is really good. :)
Essie Wild Thing
red fushia base with slight glitter. The swatch is 2 coats and 1 coat of top coat. The color is very chic. Excellent formula and application.
Essie Jackie Oh My
a pale off white with shimmer. The swatch is 4 coats and 1 coat of top coat. The formula was a bit opaque but the application was great. :)
hope you enjoyed,
<3katherine