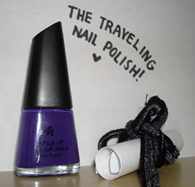 This post will not include any pictures, but my next one will. :P I just want to put these things out there; great opportunities for nail polish lovers and hoarders!
First is the traveling nail polish, Manhattan 610K. I already had my post about it and so has other nail bloggers. It's time to be passed onto another blogger and see what mani. they will use 610K for. If you'd like to enter please
click this link here
(or the picture) & enter. Please note that you must be a GFC follower with a blog to enter. I'm accepting entries until
February 5, 2011 12:00AM EST
.
The second is Konad-licious's huuuuge giveaway for reaching 1,000 followers. JUST LOOK AT THE AWESOME PRIZE!! We have BYS, Ozotic Pro, BB Couture, Glitter Gal, Nail life, Color Club, Minx nail strips, face mask, TimTam, nail wheel & more!!
If you want to enter in this giveaway, you must be a GFC follower! Check out the other giveaway regulations at
Konad-liciou's giveaway post here
and you may also enter in the giveaway at the link given.
Sorry for the lack of nails this month. :( I hope to post more though!
Happy polishing! :)
<3katherine